COVID-19 update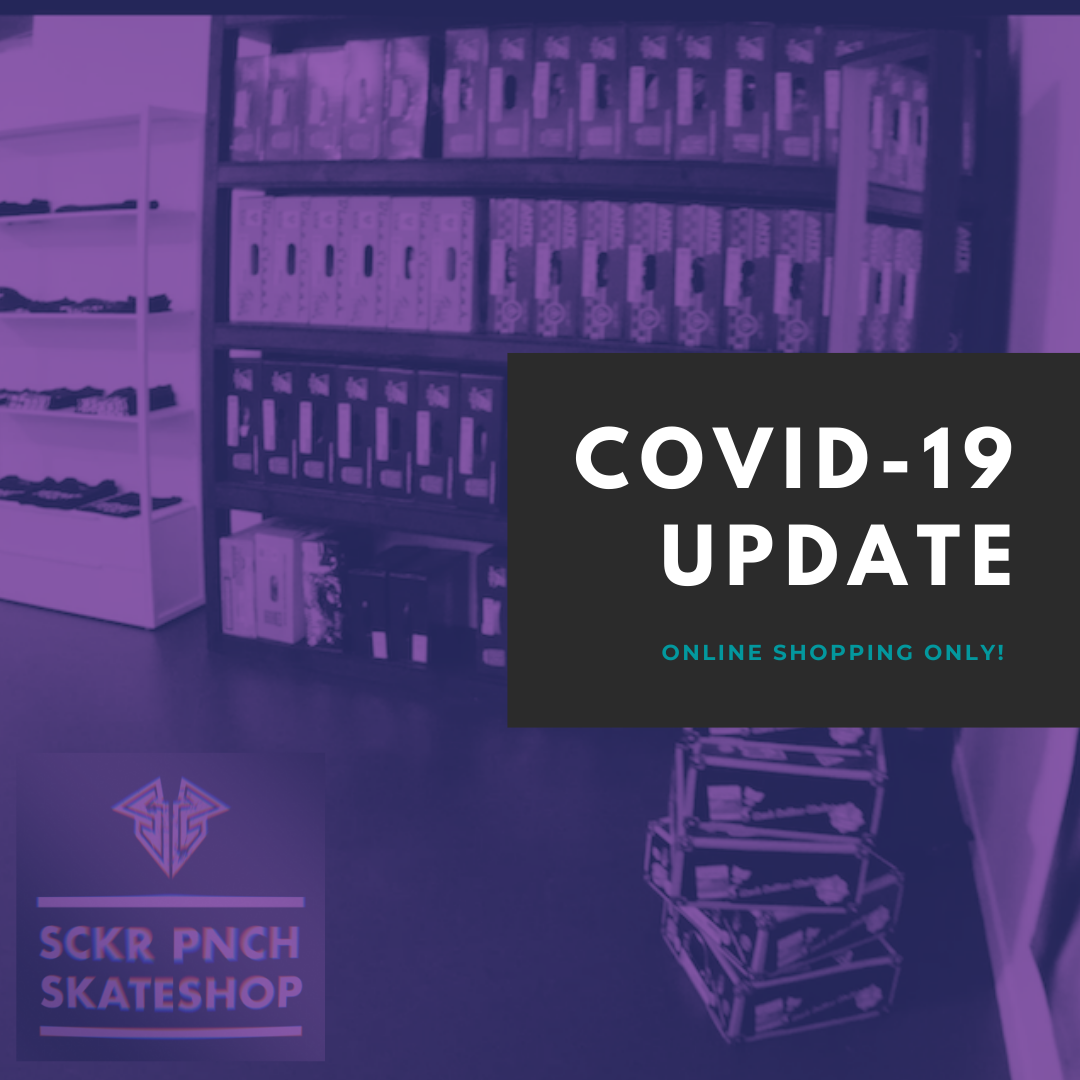 To keep our community, staff and ourselves as safe as possible, we follow (and try to anticipate) national and WHO guidelines. Welcome to the upside down.
Visit us in store
As of Tuesday December 1st we are allowed to open our store to have you over per appointment only. Please email us to make an appointment, on weekdays between 10 and 18h.
We follow the government's guidelines, so don't forget to wear your mask, disinfect your hands when entering the shop and come with maximum 2 people. 
For mounting and repairs, please drop us a line.
We keep our focus on working online.
The Sucker Punch webshop is 100% operational, so you can order online. We ship with UPS and Bpost. They are super strict on safety for their staff and every person they service along the way.
You can expect the same online service and online as you have know for 9 years now. We go out of our way to help you with and on your roller skates.
We try our best, orders might know delays, and we ask your understanding while COVID-19 influences our way of operating on a daily basis.

If you have been thinking about upgrading your skates, the time is now. You will not miss a practice while we put new plates under your boots, or while your skates are torn to pieces and we assemble you a new pair. Get in touch for advise on skates, protective gear and sizing.

Contact us with any questions, requests or concerns through mail, facebook or instagram. As always, we are available for all inquiries and advice. You can whatsapp us on the store phone number.

We thank you VERY much for supporting our small business through this confusing time. Stay safe and keep social distance. <3
Miyagi & Maarten


Online ordering
Our online store is fully operational. Maarten or Miyagi (not both at the same time, social distancing yo!) is in store to process your order - taking all safety measures into account. In stock orders are packed up right away and UPS picks up orders on a daily basis. Items that are out of stock, are being shipped in for you and then shipped to you asap. 
As this is an exceptional time, and the way we and our suppliers, manufacturers and shippers operate is being disrupted, general terms and conditions do not apply. Items we order in specifically for you, can not be cancelled once on their way to us. Check out returns & exchanges below for more information on those specific services.

Our free shipping for orders of 299 euro and over is applicable for shipping to a UPS Pick Up Point. However, some of them are closed right now, or don't accept packages due to high activity (some supermarkets for example). We can figure out together if shipment to a UPS Pick Up Point in your area is a possibility, yet the risk of shipment and delivery is yours. Contact us if you prefer this shipping method and it is not visible at the checkout.

If you are not in a hurry, we can also keep your order at the shop. That means we can keep it reserved for you to pick up once you are able to visit, or we can keep your packaged order aside until you want us to ship it for you.
You can also come pick up your order in a contactless way at the shop. This is possible from Monday to Friday between 10 and 16h. Nobody is present on Saturday for the time being.

If you know you'll need something soon (but not right now), consider purchasing a gift voucher. We are struggling hard in these times, and it is a wonderful way of keeping us in business (so we can pay rent, for example) and you can use the voucher at any later time for anything in store.
We also have a bunch of shirts for sale that are easy to ship and help you support our store.

Returns & exchanges
In case you want to return an item, contact us per mail and definitely wait for our GO before shipping anything back.
We extend the time during which you can return or exchange an item. So don't worry about shipping something back asap. We'll do anything to facilitate your situation in a safe way.
You can not come by the store to fit for a return or exchange at this time.

Out of stock items
Due to COVID-19, some manufacturers had to close their production facilities earlier this year (Asia), or recently (Europe and other parts of the world). This has an impact on the stock we hold in store. We have stocked up a lot over the last few months, following closely what manufacturers would be impacted on what level. But to be fair, no one planned for this virus to have such a massive impact on the whole world. We try to keep up with what's in store and what runs out, and - obviously - we'll contact you if there's an issue with your order.

Whatever is in stock at our suppliers, can be ordered in now, and we'll get it to you asap.
But know that some manufacturers and suppliers are not able to produce or ship items right now, so we can not restock all the items we normally would.

Get in touch if you have specific things you are looking for, and we will check for you and communicate super transparent (as we always do) about the situation as is.


-- update Tuesday December 1st 2020
!! Shipment might know delays along the way. More packages are being shipped (everyone is shopping online a lot), there are fewer couriers and there is stricter control, for both domestic and foreign shipments. We thank you for your patience and understanding. 

Shipping
Some destinations are hard to be serviced. We try to update our shipping options as much as we can, but changes are happening. As soon as we receive an order that can not be shipped at this time, we will get in touch with you. You will get the option to keep your order and we will ship it when it is possible again, to swap it into a gift voucher to purchase something at our store at a later time, or you can cancel and we will refund your order.


UPS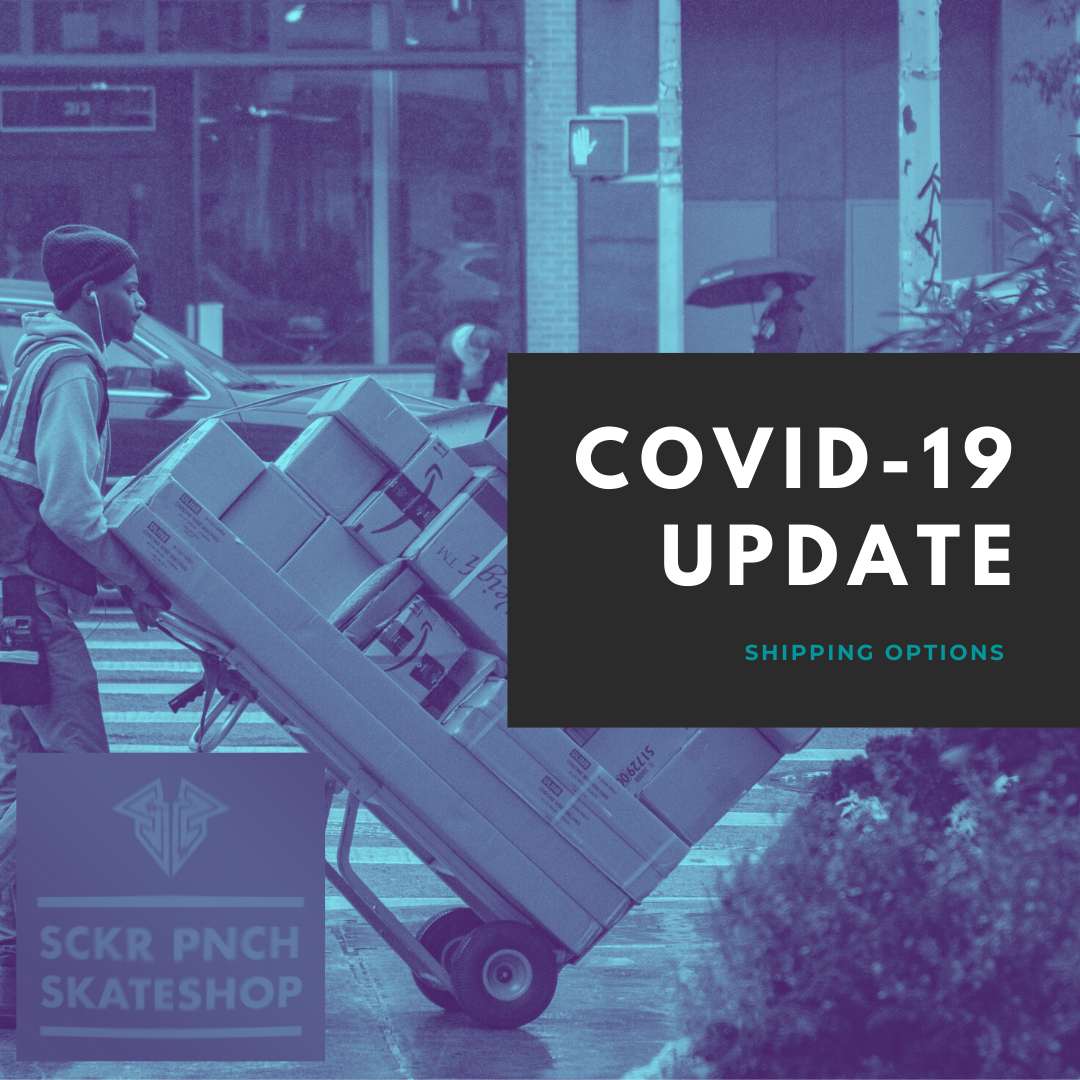 UPS is our standard shipping partner for packages throughout Europe. They are running operations as normal as possible in this situation. Some Pick Up Points are closed, but most are open again. You can check your preferred pick up point right here. Feel free to inform us about your preferred UPS Pick Up Point. 
We do advise to choose for a delivery to a location someone will be present. This is the most secure option to receive your package without any issues as the situation changes daily.
Do use the My Choice option from UPS, which allows you to reroute (in some countries and regions) and add remarks to your package.
Please provide a phone number, as it gives the delivery person the chance to call you when no one answers the door, instead of taking the package with them and shipping it right back to us. 
Keep a close eye on the tracking link you receive. In case of any deviation of the normal trajectory or when it says the package will be returned to sender, contact us! Maybe we can help reroute the package for you or make other arrangements for delivery
USA
We do ship to the USA, but contact us for a full quote (items and shipping) as our online system can not calculate the correct shipping. UPS' shipping cost is based upon the destination (zipcode) and the dimensions/weight of the package (the items you are looking for). Shipping takes 3-4 business days, so that's pretty cool.


BPost
Bpost is the carrier we use for small shipments (envelopes) and special packages. If you prefer for us to ship regular packages with Bpost (National postal service), please get in touch as we'll make you an estimate/order accordingly.
BPost let us know they temporarily don't ship outside of Europe.
We can ship packages to most EU countries and the UK.