S1 Lifer Visor Helmet 2.0
After the first launch of the S-One Lifer Helmets with visor, some changes were made for the better. So it's time to have them at our shop. Better fit, detachable visor... the second generation S1 Lifer Helmets with Visor!
Levertijd
Kan besteld worden
S1 Lifer Visor Helmet 2.0
Features

Dual Certified (CPSC 1203 Certified for Single High Impacts, ASTM 1492 Certified for Multiple Low Force Impacts and EN 1078 Certified (European Impact Certification))

High impact / Multi-impact EPS Fusion Foam

Deep fit design - fits nice and low on your head

High impact ABS outer shell

Lightweight construction

Soft foam sizing liners - for a perfect fitting helmet

 

Visor Specifications

High Impact Polycarbonate to Prevent Shattering on Impact

Optically Correct Lens

Anti-Fog Coating on inside of Visor to help prevent fogging

Anti-Scratch Coating on the Outside of the Visor to help prevent minor scratches and nicks

Patented "Cover Catcher" to allow for Multiple Helmet Covers to be worn with easy on off

In Mold Mounting Hardware so that the Visor can be Removed and Replaced if Needed




How to measure your size



Measuring your head is very helpful to figure out what size Lifer Helmet you will need. It is easiest to do this with a soft measuring tape but if you do not have one you can use a string or a cell phone charging cable and then measure that against a ruler or hard measuring tape.
You need to measure your heads circumference and will want to wrap the measuring tape starting in the middle of your forehead and just above your eye brows, then around your head above your ears and back around your head to the middle of your forehead where you started. Put simply you want to measure your head where your hat would normally sit or where you would imagine the helmet to fit on your head just above your eye brows.  

Once you get your measurement compare it to the sizing charts to see which Lifer will fit you.

 

 

Sizing

Extra Small - 52,1 cm
Small - 53,3 cm
Medium - 54,6 cm
Large - 55,8 cm
Extra Large - 57,1 cm
Extra Extra Large - 58,4 cm
Extra Extra Extra Large - 59,4 cm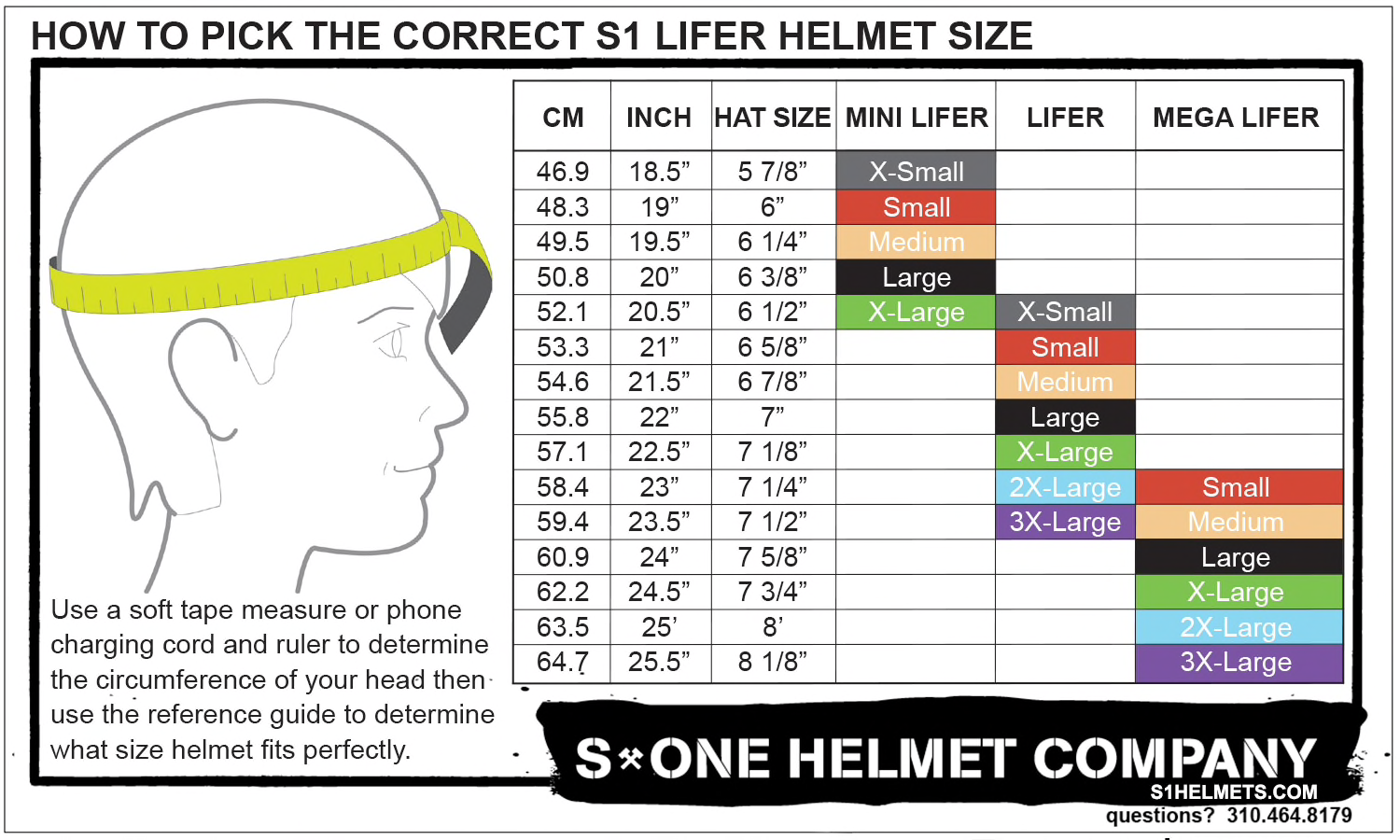 5

sterren gebaseerd op

4

beoordelingen
The lifer visor helmet has been my go to helmet for 2 years now. I mainly got a visor because my teammates wouldn't stop poking my eyes with their fingers during games :) So that problem has been solved. Before I got the lifer visor, I skated with a regular S1 lifer for 3 years. The helmets from S1 are durable and the liners are easily (and cheap) replaceable when they are worn out. Defo would recommend this helmet to anyone.
Just bought my 2nd Lifer Visor helmet. This time in the Champagne Glitter color! I'm very happy with the color & it really matches the picture on the website! Have been skating with black gloss for over 7 years now, it was time for a change!
My go to helmet. Have been wearing lifers for about 6 years now. I'm very small, so the visor has definitely saved my face multiple times! Visor or no visor, the helmet fits great and it's very easy (and cheap) to replace the liners once they start to wear out. 100% recommend!
Très bien avec et sans visière. Pour les porteuses de lunettes je recommande!
5

sterren gebaseerd op

4

beoordelingen