About us
Sucker Punch Skate Shop is the largest derby and roller skater owned and operated store in Europe, operating ONLINE and actually having a PHYSICAL STORE. Heavily involved in the European Derby Community on a number of levels, we are best known for our reliable service, honest advice and competitive prices as well as our top quality products and extensive product range.
Miyagi
Sucker Punch is Miyagi's precious baby. She is a skater with Lomme Roller Girls and Gent GO-GO Roller Girls before that.
Miyagi started skating with GO-GO Gent early 2010 and can't imagine her life without skates nor derby and the great community attached.
Being a lifetime nerd, derby gear and skates appealed to her as a natural interest and love – thus she became a roller derby gear nerd! Ha!
It would be selfish of her to keep all that knowledge, insight & enthousiasm to herself, so she started sharing that love through the
Sucker Punch Skate Shop since early 2011.
It is important for her to keep digging in the skate knowledge to provide the best info to her customers and fellow skaters. She invests in visits to the manufacturers (people who actually develop and make the stuff), picking experts' brains and actually talking to any skater about their experience.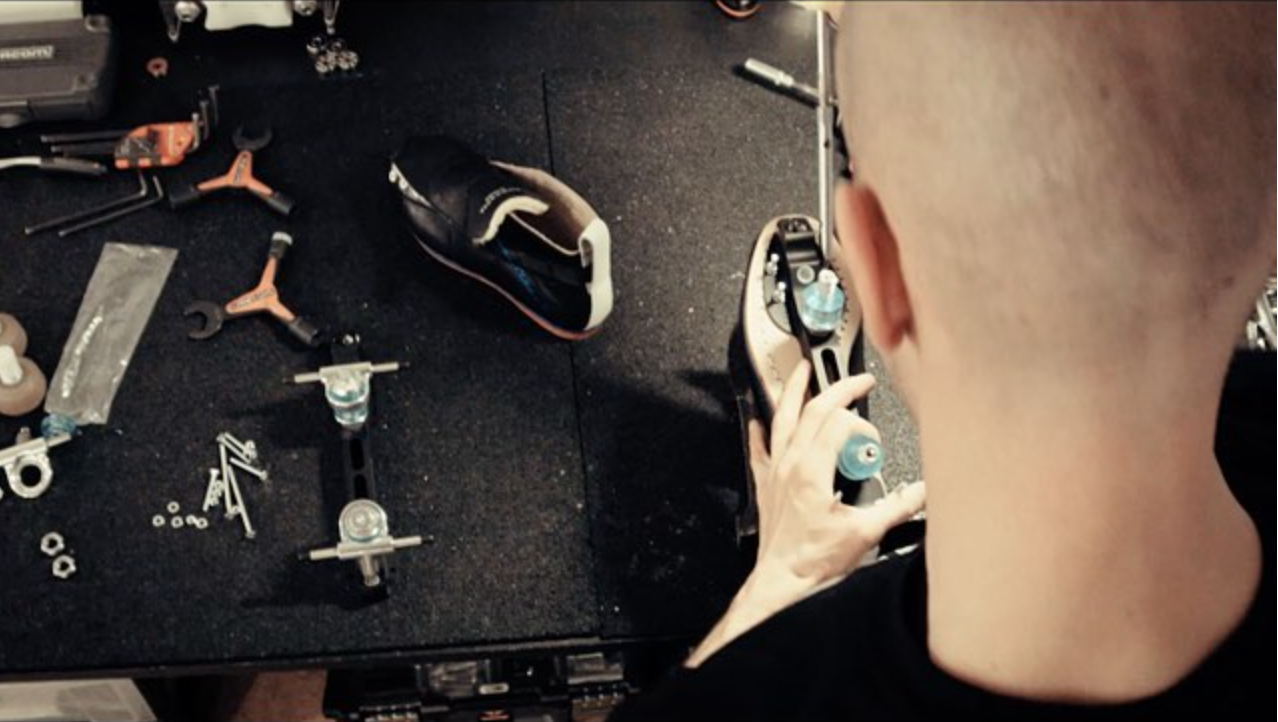 Maarten
Spending his life being crazy about anything on wheels, Maarten partnered up with Miyagi. He shares Miyagi's nerdyness on some levels (unfortunately he's not into Star Wars) and has a passion for anything technical. He's the one who'll mount your skates, fix breakages and fuckups, and helps you in our store.
Our staff
We have a buch of passionate skaters who help us out at events and in store. If you would like to be one of them in Gent or your own region, get in touch!


Remember
In 2010, each skater had to purchase their starter kit in the USA. This was very inconvenient in numerous ways: you could not try on the gear you were buying, the shipping costs for intercontinental shipping was pricey, extra tax/VAT of 19-21% was added (and still is for USA purchases), the packages got stuck in customs for days or even weeks...
Miyagi was tired of that and started Sucker Punch Skate Shop, the first store in Europe run by roller derby skaters. Taking care of import and stock, visiting events, opening our house and later a storefront roller derby gear became accessible for European skaters. 
By now, we're some European OG's and proud to say we have passionately been running our derby owned store for almost 10 years. While being the largest and most experienced, we are proud to still be your local store, where every thing is run and done by us and our staff. From managing the website, packing orders, visiting events, mounting plates to serving skaters in store or at events. DIY. A skater owned small business.
Derby Revolution
Being heavily involved in the European Roller Derby Community and sharing the love all over, Miyagi organised the first annual European Roller Derby Convention, Derby Revolution in 2012, and celebrated its 5th anniversary in 2017. Keep your eyes open for the next edition! (or give us tips for hosting locations!)