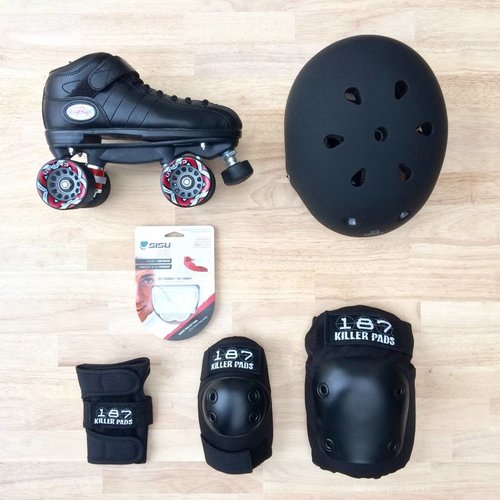 Starter Packs
Welcome to Roller Derby! We know how confusing it is to find what you need in this jungle of options, technical language and different advice. That's why we have created a few starter packs including everything you need to start your roller derby adventure. You will definitely find something that fits your needs and budget. Don't hesitate to send us your questions or request for help and information.
All our Starter packs have a major discount of 15% to 20% or more, saving up to € 75,- . Getting all necessary equipment at once will always be cheaper as a pack than when purchasing separate parts.
Every starter pack includes the following:
Depending on the pack, there are one or more Roller Skate options. All are perfect for starting Roller Derby.
There are other roller skates available for recreational roller skating, those will not withstand the instensity of roller derby. You will find these in our recreational roller skating section.
All helmets are certified for single and/or multi impact. We offer different helmet options, ranging in fit and price, but all easily pass the standard safety level required for the intensity of roller derby. Please ensure you wear your helmet correctly!
As a starting (roller derby) skater you will fall a lot. Your league might teach you how to fall safely, you'll fall by your own doing, but also by your team mates. Yes, that means your knee pads are very important. We advise you to go thick on padding. Better safe than sorry!
Do you really need this? Take a look at the elbow pads of your (future) team mates and try to count the scratches. We bet it's more than you thought. Different elbow pads will fit different. Do you feel safer in a bulky elbow pad, or are you looking for a safe but small option? We offer you all.
When falling, you most likely drop to hands and knees. To reduce that impact, wear well fitting wrist guards. Our options are safe and practical as you will use your hands in derby, too.
Easily overlooked, and often hated, mouthguards are essential for a contact sport like ours. We offer different models, amongst them SISU's which will let you talk, breath and drink without taking the mouthguard out of your mouth.